Agents to Assist in Finding Help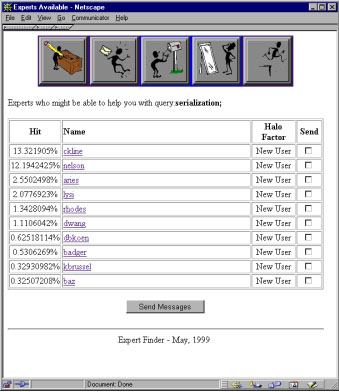 When a novice needs help, often the best solution is to find a human expert who is capable of answering the novice's questions. But often, novices have difficulty characterizing their own questions and expertise and finding appropriate experts. Previous attempts to assist expertise location have provided matchmaking services, but leave the task of classifying knowledge and queries to be performed manually by the participants. We introduce Expert Finder, an agent that automatically classifies both novice and expert knowledge by autonomously analyzing documents created in the course of routine work. Expert Finder works in the domain of Java programming, where it relates a user's Java class usage to an independent domain model. User models are automatically generated that allow accurate matching of query to expert without either the novice or expert filling out skill questionnaires. Testing showed that automatically generated profiles matched well with experts' own evaluation of their skills, and we achieved a high rate of matching novice questions with appropriate experts.
Adriana Vivacqua and Henry Lieberman,
Agents to Assist in Finding Help
ACM Conference on Computers and Human Interface (CHI-2000), the Hague, Netherlands, April 2000.
---
lieber@media.mit.edu