!Converted with LaTeX2HTML 95.1 (Fri Jan 20 1995) by Nikos Drakos (nikos@cbl.leeds.ac.uk), CBLU, University of Leeds >
---
Next:
Polymer-dispersed LCDs
Up:
Future possibilities
Previous:
Future possibilities
---
The surface-stabilized ferroelectric liquid crystal display shows great promise. It uses chiral smectic liquid crystal---a type in which the director rotates around a cone of directions

from the perpendicular of the layers. The hope is to make the film so thin that the director will not rotate. The planar layers are perpendicular to the glass plates of the display. The liquid crystal molecules have a permanent electric dipole perpendicular to the long axis of the molecule (the director). When a positive electric field is applied across the film, the dipole wants to align toward one of the glass plates. This makes the director point a particular direction that is parallel to the glass plates. When the opposite electric field is applied, the dipole will rotate

to point the other direction. The director will then be
away from where it used to be.
If the entering light is polarized along the director in one of these states, then no light will be able to penetrate a crossed polarizer on the other side. When the molecule is rotated, the polarization of the light will be at a 45 degree angle to the director. This means that the two components of the light, one parallel and one perpendicular to the director, will travel at different speeds through the liquid crystal. If the thickness can be controlled so that the component perpendicular to the director will be

out of phase from where it started, then the resulting light's polarization will be rotated

and will be able to penetrate through the crossed polarizer.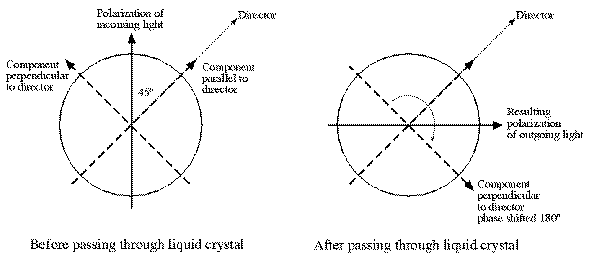 Figure 6: Modification of polarization by ferroelectric displays. Before passing through the liquid crystal, the components of light polarized parallel and perpendicular to the director can be separated. After passing through the liquid crystal film, the perpendicular component is shifted in phase by

. The resulting linear polarization is rotated

from its original direction.

Surface-stabilized ferroelectric displays have the distinct advantage that switching speeds are very high since electric field is necessary for both turning a pixel on and for turning it off. However, problems in development of this kind of display have persisted. The most difficult issue to resolve has been the orientation of the director throughout all the layers of the film. As said before, the director normally rotates around a cone of directions as we move through the layers of the crystal, but if this display scheme is to work, this rotation must be stopped.
---
Next:
Polymer-dispersed LCDs
Up:
Future possibilities
Previous:
Future possibilities
---
---
Stefan Agamanolis
Thu May 18 11:00:12 EDT 1995