!Converted with LaTeX2HTML 95.1 (Fri Jan 20 1995) by Nikos Drakos (nikos@cbl.leeds.ac.uk), CBLU, University of Leeds >
---
Next:
References
Up:
Future possibilities
Previous:
Surface-stabilized ferroelectric LCDs
---
Also under active development is the polymer-dispersed liquid crystal display. In this kind of display, very small bubbles of liquid crystal are produced inside a transparent polymer. If no field is applied, these bubbles of liquid crystal will take on many different orientations. Since at least one of the two indices of refraction of the liquid crystal and the index of refraction of the polymer must differ, there will be some reflection of incoming light. Now, if a field is applied, the director of the liquid crystal will align with the field. If the materials are carefully controlled so that the index of refraction of the liquid crystal for light polarized perpendicular to the director matches the index of refraction of the polymer, then light will propagate all the way through the material without being reflected at the bubbles.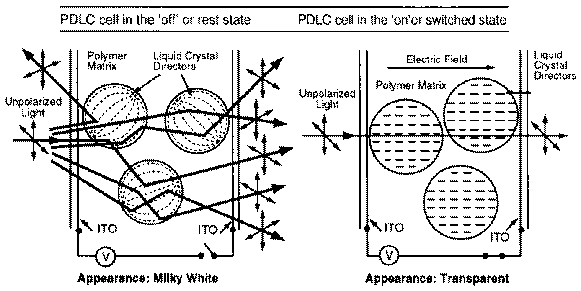 Figure 7: Action of polymer-dispersed LCDs (reprinted from [OM93])

Polymer-dispersed displays are very bright because polarizers are not needed. Also, they are easy to manufacture since the exact thickness of the film is not important. However, the characteristics of the display break down when it is viewed at an angle, and the voltage-brightness response curve is not very steep, so multiplexing ability is limited.
Will liquid crystal displays ever look as good as a printed piece of paper? The answer is yes, but such displays probably won't become widespread for a long time. Right now, Xerox PARC has produced a 6.3 million pixel active matrix display with a resolution of 284 dots per inch---near laser printer quality! Most of today's notebook computer displays only have about 60 to 80 pixels per inch. Manufacturing this kind of display in bulk would be futile given today's imperfect fabrication processes, but at least it has been demonstrated that displays with these beautiful characteristics can be built and might even be commonplace in the future.
---
Next:
References
Up:
Future possibilities
Previous:
Surface-stabilized ferroelectric LCDs
---
---
Stefan Agamanolis
Thu May 18 11:00:12 EDT 1995