One unique series of WD40+prints was the result of a commission Lieberman did depicting Joseph Beuys, leading 20th-century German Conceptualist artist. Though he had completed a portrait of Beuys on a vessel form for his client, he remained enamored with the man 's face and wanted to explore his image further. He produced a vitrograph, printed the image,and Weiss layered it with a painterly cross.

That was an interesting collaboration, says Weiss,"because I created the expressionistic part,and Walt created an extremely detailed face. Usually we meld our styles so well you can 't tell who did what. We even forget sometimes. In this case, the result is very distinct.
This series of 20 prints depicting Beuys' head peering through an overlay of color was exhibited in July 2002 at Bubba Mavis gallery in Seattle in a WD40+show titled,"Beuys and Girls".
Whether printmaking or painting on glass, the WD40+collaboration is unique and interesting in a number of respects.
The first is the physical way in which Weiss and Lieberman work. Each starts with a plate or a painting; then they exchange the work and continue painting over that image, trying to remain sensitive to each other 's visual thinking.The work gets passed back and forth several times before it is complete.There is no separation of function.They are completely enmeshed in each other 's work, a process that requires a great deal of flexibility and trust.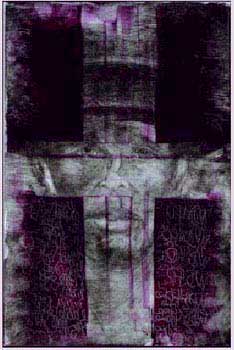 "Magenta Beuys" WD40+,30 " x 22 ",monotype on paper,2001 photo:Ivey Seright.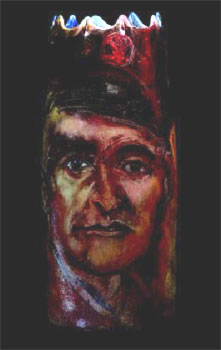 "Our Soldier,Our Father," WD40+,22" x 12"
enamels on blown glass,1996
Vessel by Ben Moore, photo: Roger Schreiber.
Says Weiss,"Underlying this trust is the implicit notion that we both have a great deal to learn from the other. Our personal styles, in some respects, are at odds and in other respects, in sympathy."
Lieberman 's painting style is often slow, meticulous and highly finished. Weiss ' painting is fast, spontaneous and more expressionstic.
"It 's a bit like a detailed and involved conversation", says Weiss. Our friendship is a key to the success of the work. Allowing another person to mess with your work can and will create tensions. Our commitment to the friendship helps us over the rough spots. Our working together is not without its disasters, yet let he who is blameless cast the first stone.
So what happens if a project does not suit one of them?
"We have a rule that each of us has the right to veto something if we really feel strongly about it," says Lieberman. "But we use that sparingly. If I had everything my way,it would be just like what I make at home,and there would be little point to the collaboration. I have to let myself go where Dick takes me or there would be no learning in the experience.The most important thing is that after all is said and done, we remain friends and produce some good work along the way."
WD40+ allows each artist to achieve things they never could or would in their individual work. "Working with Walt releases the ownership aspect of the object for me," says Weiss. "I 'm not concerned with screwing up.This is a joint effort. There 's a higher percentage of projects that can turn out well if you 're able to play it loose.