In the late '70s,Pilchuck drew a number of glass artists to Seattle, and in those early days many worked at Rob Adamson 's studio,The Glass Eye. Some of the most recognizable names in glass art began their careers at this glassblowing studio and formed friendships that have survived the changing tides of the Studio Glass Movement. Some even formed collaborations.The success of WD40+ (the collaboration between Walter Lieberman and Dick Weiss) is based upon a friendship,trust and mutual respect whose first seed was planted before anyone really knew who Dale Chihuly was.
Each has a separate career in glass:In 1971 Weiss began working in stained glass,creating multitudes of autonomous panels as well as several publicly funded architectural commissions. His focus has recently turned to the leaded glass screen, described by Weiss as a celebration of the hand-blown rondel. Lieberman's work has evolved from blown vases cut with a sandblaster to vessels and flat glass painted with enamels.
Though individually they 've achieved success with their art, both Lieberman and Weiss consider their collaborative prints and painted glass some of their best work. However, it was not love at first sight when they met at The Glass Eye in the '70s. "Walt was a guy from New York,and I was an insecure West Coast kid spouting stuff right and left to Walt" says Weiss. We didn 't like each other at all. So we backed off for five or 10 years. But little by little I began to watch what Walt was doing,and really respected his work.
A turning point in their friendship came in 1990 when Weiss took a class at Pilchuck with Albinas Elskus. Lieberman was the teaching assistant. Weiss had been working on a piece that for some reason he was unable to finish.He gave up,uncomon to his usual tenacious character. But Lieberman thought he could do something with the piece.And Weiss agreed to let him try.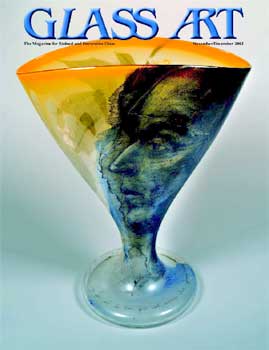 "The Blue Lady" WD40+, 22 " x 10 "
enamels fired on blown glass 1998
Vessel by Ben Moore. photo:Rod Slemmons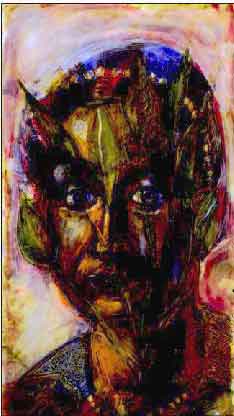 "Pearls," WD40+ 24 " x 12 "
enamel fired on glass,1996.
He took it, painted on it, fired it, brought it back and I said, "Hey,you did it!' I thought, if he can fix this,we can work together, laughs Weiss.."I thought,I better keep an eye on this guy by working with him. Maybe I 'll learn something.
Says Lieberman,"At first we didn 't mesh; I guess I didn 't understand Dick 's sense of humor.But over time we grew to like each other. I was very familiar with Dick 's work,and admired it a great deal. When I worked on that first painting, I didn 't want to finish it the way I would finish it, but the way Dick would. I tried to put myself in his place and paint the way he does and it looked good.
Most of their early collaborations were prints, not paintings on glass. Another Seattle area glass artist, Bob Carlson, invited Weiss and Lieberman to his home studio on Bainbridge Island, where he had a printing press. In 1992, they formed a print club and their first printmaking collaboration was born along with the name WD40+, Walt and Dick past the age of 40.
Currently prints compose two-thirds of their work. Both artists feel printmaking is quicker than painting on glass and allows them to explore more ideas in a short period of time. Also, printer 's ink has more intense saturated color. With enamels,that intensity of color takes layering and planning.
With prints you fix the view. But especially with three-dimensional work, as you walk around a piece, you see all kinds of different views and different portions the work. Painting on glass is a much more complex compositional challenge, says Lieberman.