These are the live recordings of my performances in the Van Cliburn International Piano Competition for Outstanding Amateurs, held in Fort Worth, Texas (June 2000). This unusual event was a highlight of my year. It's for pianists who are over 35 and out of practice: no professionals allowed. Contestants play purely for the love of it. The pianists who come, about a hundred of them, are from dozens of countries and all walks of life: the chemist from Japan; the Brazilian ambassador; the blackjack dealer from Reno; the autoglass repairman, surgeon, lawyer, numismatist, masseur, assistant manager from Starbuck's, flight attendant... What a dazzling array of human interest. On stage, settling down at the gleaming Steinway concert grand, they glowed like 500-watt bulbs, and the audience was on the edge of their seats, hanging on every note. Music for the pure, unalloyed joy of it. Great stuff.
I've always felt that part of the fun in being a true amateur comes from the mistakes, and the excitement in not knowing how well you might do. Professionalism (suggesting perfectionism) kills that spontaneity. Anyway, you might as well learn to love those pesky mistakes. Even Franz Liszt hit a few clams from time to time, but he didn't call them mistakes: he called them "uninvited guests," and always tried to make them feel right at home. Or Rubinstein, who used to say: "Well, sometimes I do play wrong notes... But I play them so much better than anyone else!" Liszt and Rubinstein were pretty groovy guys, and that's a much nicer attitude than antiseptic professionalism. Anyway, this is all my way of confessing: the Scriabin and the Fauré I half-learned on the spot in Fort Worth. I fluffed a phrase in the middle of the Liebesleid, and was so rattled that I made up a passage and threw in a glissando later to ham it up. And I narrowly avoided having the train run completely off the tracks in the Liszt — just kept bashing away, looking for that lost chord. It all adds to the excitement. I was thrilled just to play. And I am very grateful to the Cliburn Foundation and to audio engineer Jim Jackson for the opportunity, as well as for this lovely recording.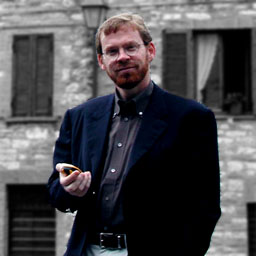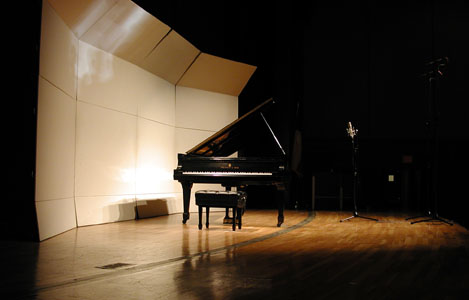 What you see before walking out to thunderous applause.
PRELIMINARY ROUND
J.S. Bach (1685-1750): ich ruf zu dir, Herr Jesu Christ (bwv 639; 1713)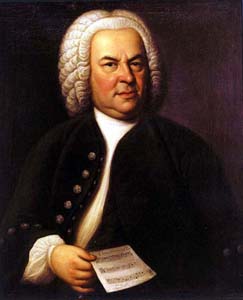 E.G. Hausmann's portrait of Bach (1746), holding the
"triplex" canon. It's widely regarded as the only
authentic portrait of JSB.
For openers, I wanted something technically easy but musically exquisite. Remember, it's a nerve-wracking competition, and you haven't played in public for god knows how many years. So, calm, soothing, heartwarming music is a nice way to get the feel of the piano while you settle down on stage (especially if, for some reason, you screw up and forget to use your try out time and have to play the instrument cold...). And it's a nice way to connect with an audience. This special piece was perfect. The chorale I call to thee, Lord Jesus Christ is the subject of one of Bach's cantatas (bwv177), but the cantata was written later, in 1725: this organ prelude was written in 1713. (Hm....) It's one of the saddest and most soulful pieces I know, and it still brings tears to the eyes after 300 years (and so it shouldn't be a surprise that it was played at Princess Diana's funeral).

I think it was Pablo Casals who said that underneath the formal surface of Bach's music lies an emotional volcano. He also called Bach "the God of music" and he wasn't alone there. Bach exerted such a deep influence on every composer since, and yet lived so long ago, that it's easy to forget that he was a real guy, and lived a real life, and his music naturally reflected the very intimate feelings and experiences of his own adventures in living.
When Bach was just a little boy, aged 9, his mom died. And the next year, just 10, his dad died. So Bach grew up with his oldest brother. He became a star organist in his teens (but he seems to have excelled at playing all the instruments for which he composed), and he married Maria Barbara, a cousin, at age 22. They soon began making babies. In February of 1713 they were blessed with twins (their third and fourth children), but alas, both babies died within a few weeks. Johann and Maria were just 28. I have not been able to pin a precise date on this chorale, but it was written that year, and I would not be surprised if it was interlaced with the tragic loss of their twins. The young couple must have been devastated. And in 1725, the year he wrote the full cantata (and also the year he wrote the extraordinarily emotional chromatic fantasy and fugue), his beloved wife, Maria Barbara, died. So there may be a deeply personal connection to ich ruf zu dir.
At the end of the autograph manuscript, as with many of his works, Bach wrote the initials "S.D.G.": soli Deo gloria, to God alone the glory, a reminder of the spiritual warmth that is at the heart of his music. The Italian mega-pianist, Feruccio Busoni, made this faithful arrangement around 1899. I recall feeling comfortable at the piano, really enjoying the quiet in the hall, and really being able to concentrate: the spotlights were bright, I couldn't see the audience, and there was really just the black and white of the keyboard to look at. So I looked up, and closed my eyes, and let my fingers rest on the keys for a moment, thinking about how this piece must have sounded in a big, stone Lutheran cathedral. I mostly played with my eyes closed, listening to the piano's organ-like bass, the way some of its melody notes sang so beautifully. That Steinway was gorgeous for this piece. You could hear a pin drop.
Here are the words to the hymn:
I call on thee, Lord Jesus Christ,

I have none other help but thee.

My heart is never set at rest

till thy sweet words have comforted me.

And steadfast faith grant me therefore,

to hold by thy word evermore,

above all things,

never resisting,

but to increase in faith more and more.
References and recordings:
www.jsbach.org
Hanford & Koster's very thorough and award-winning online catalog of JSB works, recordings, web sites, etc. A good first stop.

John Butt, ed.
The Sacred Choral Music of J.S. Bach: a Handbook
Paraclete Press, Brewster MA 1997.

Basic views on Bach's choral music. Useful annotated bibliography.

Hans T. David, Christoph Wolff, eds.
The New Bach Reader
W.W. Norton & Co, 1999.

Compendium of original documents, impeccably translated: hundreds of family letters, papers, anecdotes form a first-person impression of Bach and his world. Yo Yo Ma loves this book. Me, too. A must.

George Stauffer, Ernest May, eds.
J.S. Bach as Organist
Indiana University Press, 1999.

Collected essays on Bach's approach to the organ: details on the instruments, tunings, registrations, etc. Historical accounts of his virtuosic playing. Recently updated.

Christoph Wolff
Johann Sebastian Bach: The Learned Musician
W.W. Norton & Co., 2000.

The most current definitive biography of Bach; his life, works, the surrounding context of musical and social cultures.

Vladimir Horowitz
The Complete Masterworks Recordings (1962-1973)
Sony Classics, 1993.

Contains "ich ruf zu dir" and a lot more besides.

Paul Jacobs
The Legendary Busoni Recordings
Arbiter, 2000.

Jacobs had eclectic and probing musical tastes and superb pianistic talents. This recording is recently reissued on CD. Intimate and sincere performances.

Another special performance is Dinu Lipatti's.
Alexander Scriabin (1872-1915): étude in c# minor (op.42 n.5; 1903)
Alexander Scriabin, age 24.
After the Bach, I was looking for something icy and shimmering, sort of a piquant musical sorbet after the very quiet and intense opening. My friend and teacher David Deveau suggested this thorny little étude by Scriabin. It was a wonderful idea. Scriabin, a musician/mystic/philosopher/madman, was actually a relative of Rachmaninoff's and the two were cohorts at the Moscow conservatory. But whereas Rachmaninoff sailed through, winning gold medals, and graduating a year early, Scriabin dropped out. He was an eccentric and self-absorbed fellow; he loved Chopin's music (and parts of this étude are somewhat Chopinesque); and he was a formidable pianist. That's evident in this stormy piece, which seems to have been a personal favorite of Scriabin's. Horowitz played it quite a bit, too. It's boiling and angry, but also has really tender, lyrical moments. This recording doesn't sound half bad to me now, although the tempo is timid and the fingerwork could use more bite. At the time I remember having a bad case of spaghetti fingers, and hanging on for dear life. This was the first time I'd played the piece for anyone...!
References and recordings:
http://www.geocities.com/Vienna/1077/
Stigliani's web page on Scriabin. Scriabin web pages are sparse.

See also the Scriabin Society.


James M. Baker
The Music of Alexander Scriabin
Yale University Press, 1986.

A heavy-duty Schenkerian view of Scriabin's music.

Faubion Bowers
Scriabin: a Biography
Paraclete Press, Brewster MA 1997.

One of the very few English biographies on Scriabin.

Alexander Paley
Scriabin: etudes (complete)
Naxos, 1997.

All the etudes for six bucks.

Sviatoslav Richter III
Great Pianists of the 20th Century
Philips, 1999.

All the op.42 etudes. He plays op.42#5 like a locomotive chugging through the Ural mountains.
Sergei Rachmaninoff (1873-1943): Liebesleid (1931)
Rachmaninoff performing with the Philadelphia Orchestra. Kreisler with his fiddle.
Both the Bach and the Scriabin are pretty intense, so I wanted something a little lighter to end the first round. Rachmaninoff's arrangement of Fritz Kreisler's elegant old chestnut, the Liebesleid, fit the bill. Rachmaninoff and Kreisler were a famous dynamic duo, and Kreisler told a story from one of their gigs together in Carnegie Hall. The two were onstage, merrily playing along, when suddenly Fritz had a horrendous memory lapse. Turning ash-white, he edged over to the piano and whispered hoarsely to Rachmaninoff: "Where are we?!" Without dropping a note, Rachmaninoff replied: "In Carnegie Hall!"
Liebesleid means love's sadness (not to be confused with liebeslieder, which are love songs) and this is one of those poignant, nostalgic old Viennese waltz tunes, touched up by Rachmaninoff in a very classy, art-nouveau sort of arrangement. If you hear a chord in the middle that sounds like it fell out of the opening line of the second piano concerto, well, it probably did, and it's a lucky thing I didn't play the next chord after it, or it might have taken me half an hour to find my way back into the Liebesleid. Elegant schmaltz to leave people dancing.
References and recordings:
http://www.rachmaninoff.org/
The Rachmaninoff Society (Vladimir Ashkenazy, president).

http://home.flash.net/~park29/rachlinks.htm
A pretty thorough list of links and references.

Geoffrey Norris
Rachmaninoff
Oxford University Press, 2000.
Norris' revised biography. Not quite in print yet, but probably the book to get.

Sergei Rachmaninoff
Rachmaninoff's Recollections, told to Oskar von Rieseman
Ayer Co. Pub. 1936.
Why are the most fundamental books so hard to find?

Barrie Martyn
Rachmaninoff: Composer - Pianist - Conductor
Scolar Press, 1990.

A voluminous biography. Out of print now.

Sergei Rachmaninoff
Complete Recordings
RCA Victor, 1993.

Definitive, by definition.

Earl Wild
Great Pianists of the 20th Century
Philips, 1999.

Full of rare and remarkable piano transcriptions, as played by the best in the business.
SEMIFINAL ROUND
Gabriel Fauré (1845-1924): nocturne n.13 in b minor (op.119; 1921)
Fauré, painted by John Singer Sargent. And photographed later in life.
Now this is an extraordinary piece. Seldom played, it's Fauré's last piano composition, written at the age of 76, and it is unlike any of his others. This was certainly the winter of Fauré's life: he had grown profoundly deaf (and complained that musical sounds seemed to break apart in his ears); he had retired from his beloved post at the Paris conservatory (toward the end it must have been hell, trying to teach students music but being unable to hear them play); and his dearest lifelong friends, like Camille Saint-Saens, were dying. (Saint-Saens died around the time this nocturne was written). Fauré's musical life spanned the careers of Chopin, Wagner, Tchaikovsky, Debussy, Schoenberg, and Stravinsky. He taught Ravel, Nadia Boulanger, Georges Enesco and many others. And he developed an unusual and distinctive harmonic style all his own.
Elegant, sublime, intimate, introspective... words like these apply to his music. And they apply to this nocturne, too, but in this piece, his always unique tonal language smolders with real bleakness and desolation. It begins with chorale-like writing, recalling some of the spiritual glow of his Requiem, but in a darker and more somber setting. Then it moves into a much more dramatic singing line, with quite a lot of action in the accompaniment, though the notes are always limpid and clear, never thick. This music is big, intense, expansive and, I hoped, a captivating way to begin the round. The previous year, Paul Doerrfeld had played Fauré's ballade (one of my favorites), and we talked about this nocturne quite a bit. I sent Paul a copy (it's somewhat hard to find), and promised I'd play it next year. That was a promise I was delighted to be able keep, and it was wonderful to know that Paul was in the audience to hear it. He was effusive afterwards, but so were several other people I didn't know: lots folks buttonholed me in the hallway just to thank me for playing that piece. This was a very fulfilling performance for me.
References and recordings:
http://207.158.243.119/html/gabriel_faur_.html
Susan Martin's very thorough Fauré web site.

Marguerite Long
At the Piano with Fauré
Kahn & Averill.

A valuable first-person account. Good luck finding it.

Jean-Michael Nectoux
Gabriel Fauré: a Musical Life
Cambridge University Press, 1995.

Definitive biography, recently translated.

Vlado Perlemuter
Fauré: nocturnes, barcarolle, etc.
Nimbus 1989.

Intriguing since Perlemuter was a student of Fauré's at the conservatoire.

Vladimir Horowitz
Prokofiev, Barber, etc: sonatas
RCA 1990.

Yep, Horowitz takes a stab at Fauré. The 13th nocturne is tucked away on this album. VH premiered the Barber sonata: an outstanding and important piece, played by an unusual pianist.
William Elden Bolcom (1938-): two ghost rags (1970)
the poltergeist
the graceful ghost
American composer William Bolcom.
In 1999, the jury bounced me out of the prelims for playing the Graceful Ghost (grrr!), but it really is a gem and I was absolutely determined to take another whack. These are great pieces: savvy, wonderfully written, and a gas to play. Deceptively disguised as vintage piano rags, and with terrific tunes, they are are subtle and sophisticated. The Poltergeist sounds like a cross between Joplin and Prokofiev (quite a waker-upper after the Fauré). It's not an altogether easy piece. And the Graceful Ghost, with its lilting melodies and delicious blues notes, is truly touching and nostalgic, always a favorite. Bolcom dedicated it to the memory of his father, which says something about its specialness. William Bolcom, a pulitzer-prize winning American composer, is on the faculty at the university of Michigan. No stranger to Fort Worth, he wrote the commissioned piece for the 10th annual Van Cliburn competition. He and his wife, soprano Joan Morris, are renowned for their performances of vintage Broadway and cabaret songs.
References and recordings:
http://www.music.umich.edu/faculty/bolcom.william.html
William Bolcom's home page at U Mich. wbolcom@umich.edu

Teresa Sterne
A Portrait
Nonesuch 2000.

Contains one of Bolcom's own performances of the G.G. rag in a very interesting compilation of recordings in homage to Ms. Sterne, who suffers from ALS. John Murphy has recorded the complete piano rags. Most others are out of print (or on vinyl LP's).

I first heard Paul Jacobs' performances of the three ghost rags; Carl Tait mentions this is now reissued on CD: Nonesuch E2 79006, Paul Jacobs plays ballads, blues and rags.
Art Tatum (1909-1956): sweet lorraine (1934)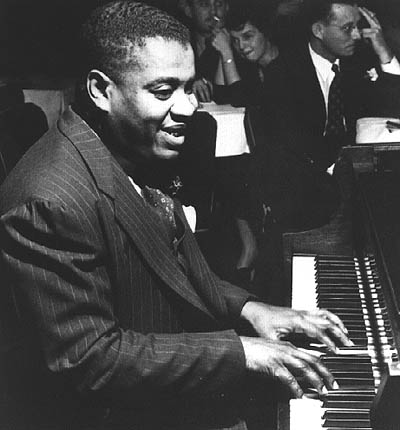 The incomparable Art Tatum at the piano.
When I was 21, living in Paris, I bought a massive boxed set of recordings of Art Tatum playing the piano. From the moment I put the needle on the first track I was blown away. I knew, then and there, that being a professional pianist was a hopeless waste of time. It made me feel a little better to learn that guys like Gershwin, Rachmaninoff, Horowitz, and Godowsky occasionally hung out at the jazz club in Harlem where Tatum played. Often they left awed and in tears. Tatum's pianism was just too marvellous for words. Steve Allen interviewed Tatum in the 50's and quipped that listening to him play was like looking at a Da Vinci painting while riding by on a fast bicycle. It was too much to appreciate.
Another telling data point: when you ask the giants of jazz who the greatest pianist of all time was, you typically get responses like: Oscar Peterson, Fats Waller, Erroll Garner, maybe Bill Evans, others. But when you say, "What about Art Tatum?" the reply is something like: "Well, of course there's Tatum, but man, he's in a league of his own — nobody could play like Art Tatum!" When Oscar Peterson first heard Art Tatum play, he thought it was two people in a duet. And Peterson gave up the piano for a month. (Later he became Tatum's protegé, and was at his bedside when he died.)
There's a true story about a night when Fats Waller was playing in a club to a big crowd, and Art Tatum walked in. Waller stopped playing and famously announced to the audience: "Ladies and gentlemen: I play the piano a little, but tonight, God is in the house." Sort of like the good old days in 1700's Germany when a town needed to dedicate a new pipe organ: the best organists from around the country would show up to play their slickest stuff; then Bach would walk in, and all the other organists would sheepishly leave. That's how good Art Tatum was: a truly phenomenal, once-in-a-century piano genius. His playing certainly transcended the world of jazz, and I felt it more than had a place in the restrained, "classical" world of the Van Cliburn. Because his music was recorded, not written down, most classical pianists don't find it, but there are now a handful of published transcriptions (and, oy, what a lot of work it must have been to make them).
It's worth noting that Tatum was legally blind almost from birth (it was said he could play pinochle if he held the cards close to his one marginally good eye; and he said he could see enough to get around, barely). He grew up in Toledo, Ohio, studied classical violin for years, but switched to the piano when he was a teenager. And he said that he was a much better pianist after three days than he was a violinist after thirteen years. Being nearly blind, he developed a keener sense of touch, and that probably led him to avoid big leaps and instead, fill in with those remarkable, purling three-finger runs (like an old clavichordist, he tended not to use his right thumb in fast scales). When he died of uremia (kidney failure) in 1956 at the age of 47, the world lost one of its most precious musical treasures. The epitaph on his grave, carved with a grand piano in the clouds, simply reads: "Art Tatum - devoted husband - though the strings are broken, the melody lingers on." It breaks your heart to learn he had just bought a spiffy new tuxedo and was planning a big concert tour including formal recitals at halls in Europe and the US. What a loss.
Sweet Lorraine was written by Mitchell Parrish (words) and Clifford Burwell (music) in 1928, and was a much-loved, often-recorded jazz standard for many years (Nat King Cole, Chet Baker, Stan Getz, Louis Armstrong, and many others all recorded versions). When you hear the pearly strings of notes that Tatum uses for decoration, but sparingly and not overdone, it's easy to forget that the song has really wonderful words about happy feelings!
I've just found joy,
I'm as happy as a baby boy,
With another brand new choo-choo toy,
When I'm with my sweet Lorraine.
A pair of eyes,
That are bluer than the summer skies,
When you see them you will realise,
Why I love my sweet Lorraine.
- I'm so happy -
When it's raining I don't miss the sun,
For it's in my sweetie's smile,
Just to think that I'm the lucky one,
Who will lead her down the aisle,
Each night I pray,
That nobody steals her heart away;
Just can't wait until that happy day,
When I marry my sweet Lorraine.
I was probably pushing my luck by programming this gorgeous jazz nugget, but what the heck. This music is too cool for school!
References and recordings:
Tatum page at Downbeat.com

Jed Distler
Art Tatum: Piano Transcriptions
Music Sales Corporation, 1991.

Contains this version of "Sweet Lorraine."

James Lester
Too Marvellous for Words: The Life and Genius of Art Tatum
Oxford University Press, 1995.

The only biography of Art Tatum. Thorough, well done, much needed, and much deserved.

Art Tatum
Art Tatum's Finest Hour
Verve, 2000.

Contains an interesting early rendition of this arrangement of "Sweet Lorraine." His later recording is more lilting, less metronomic.
FINAL ROUND
Franz Liszt (1811-1886): sonata in b minor (1853)
Franz Liszt, around the time he wrote Later in life, ever charismatic.
the sonata in b minor.
A page from the manuscript.
My fondest recollection was walking out on stage to a very large and warm audience, and thinking: what a prize! To have the opportunity to journey through this terrific piece with so many people who were just as interested as I was, and who were really going to listen.
This is it: the Kanchenchunga of the solo piano repertoire, Franz Liszt's one and only blockbuster of a sonata. It's an epic piece and a sprawling tour-de-force, naturally, but the hard thing about it is turning it from a series of virtuoso episodes into a deeper emotional journey. It uses the whole sonorous gamut of the piano, and every pianistic trick in the book. Not everyone held the sonata in such esteem: noted critic and musical putzmeister Eduard Hanslick said: "Anyone who has heard this and finds it beautiful is beyond help."
This piece was pretty "green" in my hands: I'd studied it ten years ago, relearned it in about a month (yikes!), given a pretty wobbly test-drive performance at MIT, and was not what you'd call ready to recite it in Texas. But the jury thankfully decided otherwise. You know, it's amazing how stepping into the final round can focus one's thinking. When I wasn't panicking, I indulged myself, trying lots of new things (many of which I won't need to try again). I especially tried to play not just huge fortissimos, but whisper-quiet pianissimos; I tried to play the hall, and the silences, too. And I was looking for a more sensuous, soulful, and sometimes religious quality in this piece, not the usual splintering octaves and hystrionic episodes. (It was gratifying to read afterwards, that Liszt biographer Alan Walker shares my views). Still, a wild ride!
The first ominous notes of the sonata...
References and recordings:
Kenneth Hamilton
Liszt: Sonata in b minor
Cambridge University Press, 1996.

A superb book focused on the sonata: contains a nice slice of Liszt's musical life as a background, and a thorough discussion of the history, structure, and practices relevant to the sonata.

Alan Walker
Franz Liszt: The Weimar Years (1848-1861)
Cornell University Press, 1993.

The second volume of Walker's outstanding biography of Liszt, this one encompasses his years as a composer at Weimar, the period that produced his sonata. Walker's three-volume biography on Liszt is one of the best biographies of any subject, and via Liszt it offers a remarkable window on nineteenth century musical Europe. It's wonderfully written, a captivating set of books by any measure.

Seldom performed by Liszt or others in his day, the sonata is now a staple in the modern pianistic diet and there are an enormous number of recordings of it. I've enjoyed Janina Fialkowska, Leon Fleisher, Wild, Horowitz, Argerich, Cliburn, Zimmerman, Arrau... Carl recommends Ousset and Barere.
— MJH
The day before the competition, at the Fairmont Hotel
in San Jose, CA. (If this is Wednesday, I must be in...)
Recorded in 24-bit digital audio by Jim Jackson.

Fabulous Steinway "D" (concert grand), courtesy of Steinway & Sons, New York.

Sincere thanks to the Van Cliburn Foundation, and to all the amateurs. It was a blessing to hear each and every one, and a joy to be among them.
Amateurs make the world a better place.