MIT Media Lab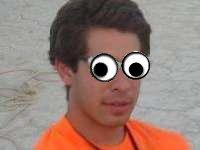 I completed my Ph.D. at the MIT Media Lab in 2013, where I was a member of the Cognitive Machines group headed by Prof. Deb Roy. I worked on the Human Speechome Project, studying early word learning from the dense audio and video data we collected from the home of a family with a young child. We published a paper summarizing this work and our findings here.
More of my publications are linked here.
Media Lab general exam proposal and reading list
Media Lab PhD thesis proposal
I was an undergraduate at Brown University and studied computer science. Later, I joined Stratify, Inc., a startup company in Silicon Valley and worked with Dr. Joy Thomas on machine learning and data mining algorithms for text analysis. During graduate school I spent some time working at Bluefin Labs, which was later acquired by Twitter. Following my Ph.D. and a postdoc I joined Twitter, where I currently lead a data science team in our Cambridge, MA office. At the current rate of my editing this page, it's probably better to just check out what I'm up to on LinkedIn.
| | |
| --- | --- |
| You can email me here: | |
Here is an "under construction" image: