I won the 2002 Van Cliburn Piano Competition for Outstanding Amateurs, held every two years in Fort Worth Texas. And here's the evidence. I am once again very grateful to audio engineer Jim Jackson for these beautiful recordings. And to Ron Coners and Gretchen Roberts and Peter Goodrich from Steinway, and Louise Canafax who pampered me (all of us, actually), and ... ... ...
My dear teacher Ward Davenny always used to tell me "The best rehearsal is your last performance." Words of wisdom. Actually, he only said that to me after I'd really screwed up in public. Well, damn! It's truly amazing how nervous one can get in a competition, and how nettling it can be to hit a few clams where you never have before. (Of course, not having actually played all the way through some pieces before walking out on stage is... well, I'll reflect a bit on the performances later.)
This year, almost everything I chose to play was a transcription. That wasn't strategic. Mostly it was coincidence; see, I've been on a Godowsky binge lately and much of his music is transcriptions. And partly it just worked out that way. For example, I wanted to program an important American work in the final round, and fixated on the Bernstein, but there wasn't a piano version. So I made one. And I needed something to follow it; wanted a big dance, something about love, and something joyful not tragic. So the Rachmaninoff/Kreisler Liebesfreud seemed natural... — oops, I did it again.
Some people have allergic reactions to transcriptions. Not me. When I asked him about his charity work in Africa, Quincy Jones told me "It's all music, man." And all music transcribes feelings when you get down to it. To me, a piano transcription in particular is like a pen and ink drawing, or an Ansel Adams photo of a beautiful corner of the world. It's a pianist's way of embracing something really beautiful, and loving it from a fresh perspective. I came to feel that for a true amateur event, and a gathering of pianoholics, transcriptions can be seen as the highest expression of love of all kinds of music, and especially piano music as an art form. For example, I doubt anyone loved the piano more than Leopold Godowsky, which may be partly why he had the notable habit of taking other piano pieces (Chopin etudes, for example) and making new piano music from them.
All of that said, at the end of the day, I just picked music that I really treasure, that was a little off the beaten path but hopefully fresh and interesting to listeners, and that really can make a piano come to life.
I'm grateful to the Van Cliburn foundation; to all of the marvellous pianists who devote so much time and energy to share their music (some photos of them are here), and to the wonderful audience (including of course the thoughtful and friendly jury, the music critics who lavish time and affection on this event, and the many friends, old and new, who took time from their days to be part of this). One of the performers, Viktors Berstis, collected lots of photos and writings. It's hard to express how valuable and special this event has been to me, personally. The people who play are, to me, living national treasures. I hope my few recordings help catch a little bit of the specialness of this extraordinary event.
Michael Hawley
mike@media.mit.edu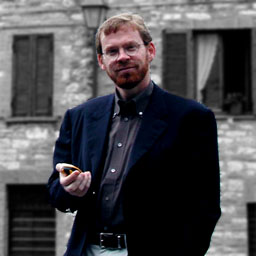 PRELIMINARY ROUND
J.S. Bach (1685-1750): ich ruf zu dir, Herr Jesu Christ (bwv 639; 1713)
E.G. Hausmann's portrait of Bach (1746), holding the
"triplex" canon. It's widely regarded as the only
authentic portrait of JSB.
Ah... Now here's a gorgeous gem. Late in life, the incomparable Leopold Godowsky made "free arrangements" for piano of three of Bach's violin sonatas and three of the 'cello sonatas. He considered these to be among his best works, and marvellous curtain raisers. They were all but ignored, which I think was heartbreaking for him. When I went digging for them, they'd long been out of print; in fact, I found this music in a crack in the Lincoln Center Performing Arts Library, where it was damn hard to find. (It's since been reissued by Carl Fischer, who are thankfully putting out a comprehensive collection of all of Godowsky's music.)

Of all the movements in all the violin sonatas, this one, the aria (slow movement) from the third sonata in a minor, always seemed to me to be the most nondescript (maybe even forgettable). But Godowsky puts it on a velvet cushion, delicately weaving a few graceful lines of counterpoint into it, and spicing it with some pungent little art deco harmonies. Tender, and nostalgic, this music reminds me of those late Picasso sketches, drawn with just a few curvy lines. But what lines! It's just about the nicest thing anyone's ever done for good ol' C major, and struck me as a very nice way to begin.

Alexander Scriabin (1872-1915): étude in c# minor (op.42 n.5; 1903)
Alexander Scriabin, age 24.
I thought it might be nice to make a little "Bach suite," so I gravitated to my all-time favorite Bach organ piece: the magnificent prelude and fugue in a minor. In the relative minor of C major, it makes a great contrast. But get this: Bach was just 23 when he wrote it. Newly married, with a bouncing baby, he hand landed a great new job as organist and was already famous and well on his way to becoming the most famous organist in the world. This sizzling toccata-like prelude and the powerhouse of a fugue are bubbling over with a young man's joyful energy and talent. Liszt made a note-faithful setting of it on the piano; I fleshed out a few of the voicings (especially in the organ pedal parts) to make it a bit more organ-like. This one works pretty well on a great piano, and this Steinway was more than grand.
References and recordings:
http://www.geocities.com/Vienna/1077/
Stigliani's web page on Scriabin. Scriabin web pages are sparse.

See also the Scriabin Society.


James M. Baker
The Music of Alexander Scriabin
Yale University Press, 1986.

A heavy-duty Schenkerian view of Scriabin's music.

Faubion Bowers
Scriabin: a Biography
Paraclete Press, Brewster MA 1997.

One of the very few English biographies on Scriabin.

Alexander Paley
Scriabin: etudes (complete)
Naxos, 1997.

All the etudes for six bucks.

Sviatoslav Richter III
Great Pianists of the 20th Century
Philips, 1999.

All the op.42 etudes. He plays op.42#5 like a locomotive chugging through the Ural mountains.
Sergei Rachmaninoff (1873-1943): Liebesleid (1931)
Rachmaninoff performing with the Philadelphia Orchestra. Kreisler with his fiddle.
the Bach and the Scriabin are pretty intense, so I wanted something a little lighter to end the first round. Rachmaninoff's arrangement of Fritz Kreisler's elegant old chestnut, the Liebesleid, fit the bill. Rachmaninoff and Kreisler were a famous dynamic duo, and Kreisler told a story from one of their gigs together in Carnegie Hall. The two were onstage, merrily playing along, when suddenly Fritz had a horrendous memory lapse. Turning ash-white, he edged over to the piano and whispered hoarsely to Rachmaninoff: "Where are we?!" Without dropping a note, Rachmaninoff replied: "In Carnegie Hall!"
Liebesleid means love's sadness (not to be confused with liebeslieder, which are love songs) and this is one of those poignant, nostalgic old Viennese waltz tunes, touched up by Rachmaninoff in a very classy, art-nouveau sort of arrangement. If you hear a chord in the middle that sounds like it fell out of the opening line of the second piano concerto, well, it probably did, and it's a lucky thing I didn't play the next chord after it, or it might have taken me half an hour to find my way back into the Liebesleid. Elegant schmaltz to leave people dancing.
References and recordings:
http://www.rachmaninoff.org/
The Rachmaninoff Society (Vladimir Ashkenazy, president).

http://home.flash.net/~park29/rachlinks.htm
A pretty thorough list of links and references.

Geoffrey Norris
Rachmaninoff
Oxford University Press, 2000.
Norris' revised biography. Not quite in print yet, but probably the book to get.

Sergei Rachmaninoff
Rachmaninoff's Recollections, told to Oskar von Rieseman
Ayer Co. Pub. 1936.
Why are the most fundamental books so hard to find?

Barrie Martyn
Rachmaninoff: Composer - Pianist - Conductor
Scolar Press, 1990.

A voluminous biography. Out of print now.

Sergei Rachmaninoff
Complete Recordings
RCA Victor, 1993.

Definitive, by definition.

Earl Wild
Great Pianists of the 20th Century
Philips, 1999.

Full of rare and remarkable piano transcriptions, as played by the best in the business.
SEMIFINAL ROUND

Gabriel Fauré (1845-1924): nocturne n.13 in b minor (op.119; 1921)

Fauré, painted by John Singer Sargent. And photographed later in life.

I wanted to play some more Godowsky, and just couldn't get the beautiful Bach arrangements off my music desk. I'd looked at the pieces in his "Renaissance" suite, and the interesting things in the "Java" suite, but found I just really liked this magnificent "Adagio" movement as a way to begin the semifinal round.

Before the semifinals, I was shanghaied out of my practice room and plunked onto a piano bench with a violinist and cellist from the Dallas Symphony. We were going to read the Tchaikovsky trio. I'd completely forgotten that I'd checked the box committing to do that, and didn't have the music with me. While we waited for a kind soul to scrounge up a copy, I played some of the Godowsky/Bach cello and fiddle arrangements, to the chagrin of my new friends. The violinist was very sporting, and played the g minor adagio with me. It was fun to see how the Godowsky version tracks the solo; it actually made a rather nice accompaniment.

In any case, this rich and sumptuous arrangement is full of neat counterpoints, including sneaking in the fugue subject that comes in the following movement. Great stuff.

William Elden Bolcom (1938-): two ghost rags (1970)
the poltergeist
the graceful ghost
American composer William Bolcom.
In 1999, the jury bounced me out of the prelims for playing the Graceful Ghost (grrr!), but it really is a gem and I was absolutely determined to take another whack. These are great pieces: savvy, wonderfully written, and a gas to play. Deceptively disguised as vintage piano rags, and with terrific tunes, they are are subtle and sophisticated. The Poltergeist sounds like a cross between Joplin and Prokofiev (quite a waker-upper after the Fauré). It's not an altogether easy piece. And the Graceful Ghost, with its lilting melodies and delicious blues notes, is truly touching and nostalgic, always a favorite. Bolcom dedicated it to the memory of his father, which says something about its specialness. William Bolcom, a pulitzer-prize winning American composer, is on the faculty at the university of Michigan. No stranger to Fort Worth, he wrote the commissioned piece for the 10th annual Van Cliburn competition. He and his wife, soprano Joan Morris, are renowned for their performances of vintage Broadway and cabaret songs.
References and recordings:
http://www.music.umich.edu/faculty/bolcom.william.html
William Bolcom's home page at U Mich. wbolcom@umich.edu

Teresa Sterne
A Portrait
Nonesuch 2000.

Contains one of Bolcom's own performances of the G.G. rag in a very interesting compilation of recordings in homage to Ms. Sterne, who suffers from ALS. John Murphy has recorded the complete piano rags. Most others are out of print (or on vinyl LP's).

I first heard Paul Jacobs' performances of the three ghost rags; Carl Tait mentions this is now reissued on CD: Nonesuch E2 79006, Paul Jacobs plays ballads, blues and rags.
Art Tatum (1909-1956): sweet lorraine (1934)
The incomparable Art Tatum at the piano.
When I was 21, living in Paris, I bought a massive boxed set of recordings of Art Tatum playing the piano. From the moment I put the needle on the first track I was blown away. I knew, then and there, that being a professional pianist was a hopeless waste of time. It made me feel a little better to learn that guys like Gershwin, Rachmaninoff, Horowitz, and Godowsky occasionally hung out at the jazz club in Harlem where Tatum played. Often they left awed and in tears. Tatum's pianism was just too marvellous for words. Steve Allen interviewed Tatum in the 50's and quipped that listening to him play was like looking at a Da Vinci painting while riding by on a fast bicycle. It was too much to appreciate.
Another telling data point: when you ask the giants of jazz who the greatest pianist of all time was, you typically get responses like: Oscar Peterson, Fats Waller, Erroll Garner, maybe Bill Evans, others. But when you say, "What about Art Tatum?" the reply is something like: "Well, of course there's Tatum, but man, he's in a league of his own — nobody could play like Art Tatum!" When Oscar Peterson first heard Art Tatum play, he thought it was two people in a duet. And Peterson gave up the piano for a month. (Later he became Tatum's protegé, and was at his bedside when he died.)
There's a true story about a night when Fats Waller was playing in a club to a big crowd, and Art Tatum walked in. Waller stopped playing and famously announced to the audience: "Ladies and gentlemen: I play the piano a little, but tonight, God is in the house." Sort of like the good old days in 1700's Germany when a town needed to dedicate a new pipe organ: the best organists from around the country would show up to play their slickest stuff; then Bach would walk in, and all the other organists would sheepishly leave. That's how good Art Tatum was: a truly phenomenal, once-in-a-century piano genius. His playing certainly transcended the world of jazz, and I felt it more than had a place in the restrained, "classical" world of the Van Cliburn. Because his music was recorded, not written down, most classical pianists don't find it, but there are now a handful of published transcriptions (and, oy, what a lot of work it must have been to make them).
It's worth noting that Tatum was legally blind almost from birth (it was said he could play pinochle if he held the cards close to his one marginally good eye; and he said he could see enough to get around, barely). He grew up in Toledo, Ohio, studied classical violin for years, but switched to the piano when he was a teenager. And he said that he was a much better pianist after three days than he was a violinist after thirteen years. Being nearly blind, he developed a keener sense of touch, and that probably led him to avoid big leaps and instead, fill in with those remarkable, purling three-finger runs (like an old clavichordist, he tended not to use his right thumb in fast scales). When he died of uremia (kidney failure) in 1956 at the age of 47, the world lost one of its most precious musical treasures. The epitaph on his grave, carved with a grand piano in the clouds, simply reads: "Art Tatum - devoted husband - though the strings are broken, the melody lingers on." It breaks your heart to learn he had just bought a spiffy new tuxedo and was planning a big concert tour including formal recitals at halls in Europe and the US. What a loss.
Sweet Lorraine was written by Mitchell Parrish (words) and Clifford Burwell (music) in 1928, and was a much-loved, often-recorded jazz standard for many years (Nat King Cole, Chet Baker, Stan Getz, Louis Armstrong, and many others all recorded versions). When you hear the pearly strings of notes that Tatum uses for decoration, but sparingly and not overdone, it's easy to forget that the song has really wonderful words about happy feelings!
I've just found joy,
I'm as happy as a baby boy,
With another brand new choo-choo toy,
When I'm with my sweet Lorraine.
A pair of eyes,
That are bluer than the summer skies,
When you see them you will realise,
Why I love my sweet Lorraine.
- I'm so happy -
When it's raining I don't miss the sun,
For it's in my sweetie's smile,
Just to think that I'm the lucky one,
Who will lead her down the aisle,
Each night I pray,
That nobody steals her heart away;
Just can't wait until that happy day,
When I marry my sweet Lorraine.
I was probably pushing my luck by programming this gorgeous jazz nugget, but what the heck. This music is too cool for school!
References and recordings:
Tatum page at Downbeat.com

Jed Distler
Art Tatum: Piano Transcriptions
Music Sales Corporation, 1991.

Contains this version of "Sweet Lorraine."

James Lester
Too Marvellous for Words: The Life and Genius of Art Tatum
Oxford University Press, 1995.

The only biography of Art Tatum. Thorough, well done, much needed, and much deserved.

Art Tatum
Art Tatum's Finest Hour
Verve, 2000.

Contains an interesting early rendition of this arrangement of "Sweet Lorraine." His later recording is more lilting, less metronomic.
FINAL ROUND
Franz Liszt (1811-1886): sonata in b minor (1853)
Franz Liszt, around the time he wrote Later in life, ever charismatic.
the sonata in b minor.
A page from the manuscript.
My fondest recollection was walking out on stage to a very large and warm audience, and thinking: what a prize! To have the opportunity to journey through this terrific piece with so many people who were just as interested as I was, and who were really going to listen.
This is it: the Kanchenchunga of the solo piano repertoire, Franz Liszt's one and only blockbuster of a sonata. It's an epic piece and a sprawling tour-de-force, naturally, but the hard thing about it is turning it from a series of virtuoso episodes into a deeper emotional journey. It uses the whole sonorous gamut of the piano, and every pianistic trick in the book. Not everyone held the sonata in such esteem: noted critic and musical putzmeister Eduard Hanslick said: "Anyone who has heard this and finds it beautiful is beyond help."
This piece was pretty "green" in my hands: I'd studied it ten years ago, relearned it in about a month (yikes!), given a pretty wobbly test-drive performance at MIT, and was not what you'd call ready to recite it in Texas. But the jury thankfully decided otherwise. You know, it's amazing how stepping into the final round can focus one's thinking. When I wasn't panicking, I indulged myself, trying lots of new things (many of which I won't need to try again). I especially tried to play not just huge fortissimos, but whisper-quiet pianissimos; I tried to play the hall, and the silences, too. And I was looking for a more sensuous, soulful, and sometimes religious quality in this piece, not the usual splintering octaves and hystrionic episodes. (It was gratifying to read afterwards, that Liszt biographer Alan Walker shares my views). Still, a wild ride!
The first ominous notes of the sonata...
References and recordings:
Kenneth Hamilton
Liszt: Sonata in b minor
Cambridge University Press, 1996.

A superb book focused on the sonata: contains a nice slice of Liszt's musical life as a background, and a thorough discussion of the history, structure, and practices relevant to the sonata.

Alan Walker
Franz Liszt: The Weimar Years (1848-1861)
Cornell University Press, 1993.

The second volume of Walker's outstanding biography of Liszt, this one encompasses his years as a composer at Weimar, the period that produced his sonata. Walker's three-volume biography on Liszt is one of the best biographies of any subject, and via Liszt it offers a remarkable window on nineteenth century musical Europe. It's wonderfully written, a captivating set of books by any measure.

Seldom performed by Liszt or others in his day, the sonata is now a staple in the modern pianistic diet and there are an enormous number of recordings of it. I've enjoyed Janina Fialkowska, Leon Fleisher, Wild, Horowitz, Argerich, Cliburn, Zimmerman, Arrau... Carl recommends Ousset and Barere.
— MJH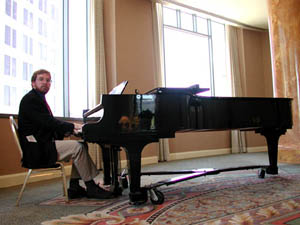 The day before the competition, at the Fairmont Hotel
in San Jose, CA. (If this is Wednesday, I must be in...)
Recorded in 24-bit digital audio by Jim Jackson.

Fabulous Steinway "D" (concert grand), courtesy of Steinway & Sons, New York.

Sincere thanks to the Van Cliburn Foundation, and to all the amateurs. It was a blessing to hear each and every one, and a joy to be among them.
Amateurs make the world a better place.