FACT SHEET: MIT and FRIENDLY PLANET Present BHUTAN --- the World's Largest Published Book
---
Now Available Exclusively At Amazon.com:
NEW! The little big book, Bhutan contains all the imagery present in the world's largest book along with more than 150 more photographs from Friendly Planet's archive. A prologue tells the remarkable story behind the making of the giant book, and an epilogue adds an adventure into remote Merak and Sakteng, home of Bhutan's unique Brokpa yak herders. The striking double-sided dust jacket features a dazzling and cloud-free NASA satellite image of Bhutan on the outside, and David Macaulay's beautiful map inside.

Still big for a book, this handsome edition measures 15x24 inches when open, weighs a hefty five pounds, and contains more than 350 photographs in 216 pages.

Available exclusively at www.amazon.com/bhutan for a $100 donation.
Ships via FedEx two-day service.

The world's largest book, Bhutan measures 5x7 feet, weighs nearly 150 pounds, and presents an entire gallery exhibit of spectacular photographs in a single monumental volume.

The book and a custom-built aluminum stand are available for a gift of $15,000 or more from the world's largest book seller, Amazon.com: click here. Ships via white-glove FedEx F1 Overnight Freight.
---
News Flash!
---
I love books. To me, opening a book is like opening a window to another world. But this book is is an utterly unique creation. At nearly 150 pounds and 5x7 feet, Guinness World Records acknowledges Friendly Planet's Bhutan as the world's largest published book. But it's less like a book and more like an entire gallery show of enormous prints, packaged in an immense yet browseable volume. The subject is the remarkable kingdom of Bhutan — the grandeur of its gorgeous scenery, the wonderfully warmhearted people there, and the serenity and specialness that make Bhutan so unique.
For schools, libraries, museums, private collectors, and lovers of great books, this may be the ultimate inspiration. Teams from MIT shot more than 40,000 photographs on expeditions to Bhutan, expeditions that pushed beyond technological frontiers, and the book is being published by Friendly Planet, a nonprofit charity, in order to raise funds for the schools and scholars there. The suggested gift — $15,000 — is about $100 per page for museum-quality prints: this book is only offered to donors who make a tax-deductible gift to support education in the world's special places. (For lesser donations, there are fine art prints and a smaller but no less beautiful book). This will be an extremely limited edition, and each book is produced on demand expressly for the donor.
What follows is a summary of Friendly Planet's BHUTAN: information about this incredible book, about the team that created it, press releases and news articles, and an up to date summary of the project for patrons, sponsors and supporters of Friendly Planet.
We couldn't be more proud to share a piece of paradise with you. Welcome to Bhutan.
Tashi Delek!
— Michael Hawley, on behalf of all the friends and colleagues who've made this possible.
---
SELECTED PRESS RELEASES AND MEDIA COVERAGE
Press releases:
News articles:
BHUTAN. One of the world's smallest and most extraordinary countries, nestled in the Great Himalaya between Nepal, Tibet, and India, Bhutan is sometimes referred to as the "last Shangri-La." It is home to one of Earth's best-preserved ecologies and cultures. And BHUTAN is now the world's largest published book.
Under a new expeditionary program at MIT, teams from MIT and Friendly Planet (a Cambridge-based 501(c)-3 nonprofit charity devoted to education in developing regions) took four expeditions across Bhutan collecting some 40,000 photographs. These expeditions were intended, in part, to help push the technical frontiers of photography, as well as to break new ground in sharing pictures. Opening to 5x7 feet, BHUTAN contains breathtaking images that convey some of the spectacular scenery and personal warmth that a traveler encounters on a journey through this unique and remote corner of the world. Only a few people will ever be fortunate enough to experience Bhutan, and for many, it is the trip of a lifetime. The book was conceived and designed by Michael Hawley, MIT's Director of Special Projects. The photography was done by young students and staff members from MIT, the University of Washington, by Bhutanese photographers and guides, and with the very special assistance of Choki Lhamo and Gyelsey Loday (both age 14) from villages of Trongsa and Phongmey. Expedition teams worked exclusively with guides and staff members from Chhundu Travel and Tours, under the direction of Ashi (Princess) Khendum Dorji, and with immeasurable assistance from the Royal Government of Bhutan.
In addition to the photographs, BHUTAN includes a hand-drawn atlas of the kingdom and some of its landmarks by renowned artist and author David Macaulay (The Way Things Work, Castle, Cathedral, City, Mosque, Pyramid, etc). The enormous map is surrounded by detailed sketches, as if torn from a master illustrator's travel sketchbook. It is the opening end page of the book, and sets the stage for the dazzling photographic journey that follows. (A technical note on the production of the map and other large images is here.)
BHUTAN is being produced in a very limited edition and will be made available exclusively to philanthropic patrons of Friendly Planet. Copies will be shipped in order of registry. Proceeds will be donated to support Bhutanese schools and scholars. Specifically, of the profits (the tax-deductible portion of the gift), half will be donated to the ministry of Education; a portion will endow a trust fund to provide university educations for the students who worked with us; and the remainder will be used to bootstrap and sustain new educational programs and future publications developed by Friendly Planet.
The Photography Team included:
Sandy Choi (FP), Karma Dorji (Tour Executive, Chhundu Travel), Dorji Drukpa (Sherubtse College), Michael Hawley (MIT/FP), Rebecca Hurwitz (MIT '03), Kaka, Choki Lhamo (Trongsa), Gyelsey Loday (Phongmey), Christopher Newell (MIT), David Salesin (University of Washington / Microsoft), Ming Zhang (MIT '03).
Nearly all the published images were shot with Canon professional equipment: EOS-1v and D60 35mm cameras, L-series lenses, and a mix of Fuji RVP-35 (Velvia) film. All expeditionary photographs were digitally stamped with precise GPS and atlas information. We have donated cameras to Bhutanese students, and at every stage, MIT students and staff have worked jointly with Bhutanese students and friends on all aspects of the photography.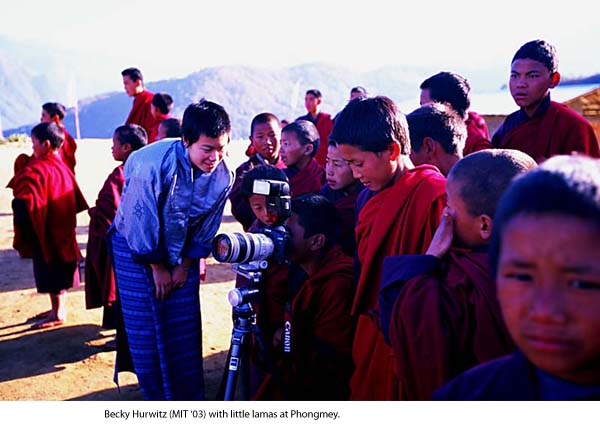 Michael Hawley is devoted to education. A member of the faculty at MIT in the Department of Electrical Engineering and Computer Science as well as the Media Lab for about a decade, he held the Dreyfoos Professorship and later became MIT's Director of Special Projects. Educated at MIT and Yale, Hawley is an explorer who has consistently pushed the frontiers of technology, literally and figuratively. Michael's career has included research posts at Bell Laboratories, at IRCAM in Paris, at Lucasfilm (where he was a small part of the pioneering efforts in digital cinema), and at NeXT (where he created the first generation of digital books and libraries with Steve Jobs).
Hawley has lectured around the world (he is represented exclusively by the Leigh Bureau). He has traveled extensively in over 60 countries on six continents, and made presentations for world and business leaders. But his favorite times are spent with young students in some of the world's farthest reaches.
The same Michael Hawley is also an accomplished pianist. "English was my second language," he says. "Music is my first." A protege of Ward Davenny, his teachers have included Jon Quinn, Claude Frank, Earl Wild, and David Deveau. He won the Van Cliburn International Piano Competition for Outstanding Amateurs in 2002. He performs only rarely, but recently made debuts at Symphony Hall and Jordan Hall in Boston.
Hawley's general web page is here.
---
GIVING AND RECEIVING: HOW TO BECOME A PATRON OF FRIENDLY PLANET
Friendly Planet is a 501(c)-3 nonprofit charity. We're not really in the book business: we're working to provide better educational opportunities for children and schools in developing regions. These are places where small investments in schools and scholars can go an awfully long way.
But the two books we have published (the $15,000 gigantic book, and the $100 small book) are both given to donors who make largely tax-deductible gifts. The bulk of the proceeds will be given to the Ministry of Education in Bhutan, to provide much-needed resources for the kingdom's schools. A portion will be set aside in a trust fund so that the young Bhutanese students who have worked with us may pursue university educations. The balance will roll forward to support Friendly Planet's future efforts (our next publications will be on Cambodia).
The following links include general background information and press kit imagery.
For a cinematic taste of Bhutan, we'd recommend documentaries like Bhutan: The Last Shangri-La, or the entertaining film The Cup.
Representative images:
world's largest published book (certified by Guinness World Records)
114 pages (2000 square feet of 5-foot high images)
over 130 pounds
opens to 5x7 feet
stunning print quality (200+ year life)
vivid portraits, breathtaking panoramas, shot by/with Bhutanese students
endpage atlas hand-drawn by David Macaulay
innovative fan-fold archival binding, tabbed and stitched
available to patrons who make a $15,000 gift ($9,000 tax deduction [estimated])
publication date: December 15, 2003
limited imprint (500 copies)
proceeds to fund Bhutanese schools, scholars and educational programs
conceived/designed by Michael Hawley
contents drawn from four photographic expeditions in Bhutan
Canon professional cameras (EOS-1v, D60, L-series lenses) used exclusively
archive of 40,000 images (mix of film and digital)
photographers included talented young Bhutanese students
GPS recorded for every shot (stamped into metadata)
film scanned at grain resolutiion (using Kodak HR 500 scanner)
archive housed in 2.5 Terabyte image server (provided by Apple)
MIT "curator" software for image bank management
special signal processing to scrub grain noise and reduce CCD artifacts
vivid prints using HP DesignJet with archival fine art media
MIT software made possible instant archiving, GPS integration, and enabled production pipeline for the large book. Image processing is essential for producing super-large prints.

Unique binding system devised by Leonardo Bonanni, Michael Hawley, Christopher Newell, Ming Zhang, and the team at Acme Bookbinding: innovative combination of asian-style fanfolding with western scheme of tabs and stitched signatures.

Major Sponsors:
Amazon (the exclusive on-line retailer, and now, literally, the world's largest bookseller)
FedEx (providing free shipping)
HP (contributing printers, ink, media and extensive technology support)
Massachusetts Institute of Technology / iCampus (funded two major field expeditions to drive technology for better image capture and archiving in the field).
The Royal Government of the Kingdom of Bhutan
Partners:
---