They have created many works that incorporate the face of one of Leonardo da Vinci 's angels from "Virgin of the Rocks," which Lieberman suggested be overlaid with a flower. They embarked on a series of prints and two-and three-dimensional glass, where a flower would be printed or scratched on glass, then overlaid with the image of a woman 's face, as seen in the piece, "Pearls." A trademark of WD40+ is the use of multiple images. In many pieces, you may not see the secondary image right away.
"Boy with Tulips " was inspired by a detail of the Renaissance painting,"Old Man and Young Boy," by Domenico Ghirlandaio.
Says Lieberman,"It 's very hard to portray a child without making the child look like an adult or over sentimentalizing the child. I think we hit a good note in this piece where you see the child as a person."
Their piece "The Blue Lady " pays homage to Petrus Christus and his work titled "Portrait of a Lady."
"We use Renaissance works as a jumping off point," says Lieberman,"and usually we end up learning a lot more about ourselves than we do about the original artist. Technically, we familiarize ourselves with their draftsmanship and style. But we imprint elements of our psyches and souls on top of their imagery. The writing in works like this one is stream of consciousness,whatever comes into our heads while we 're painting."
"Though using glass as a canvas has its limitations, Lieberman and Weiss share a love of the end result, paintings that change and take on new life depending on the light and the angle of the viewer.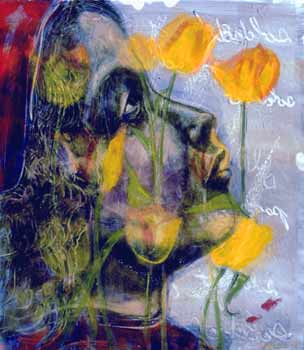 "Boy with Tulips" WD40+ 20 " x 24 "
enamel fired on glass, 2000 photo:Roger Schreiber
Both participated in last year 's Inaugural Exhibition of the John H.Hauberg Fellowship in painted glass at William Traver in Seattle.

The exhibition also included works by Bob Carlson, Paul Marioni, Kevin Dubois, Cappy Thompson, Charlie Parriott and Susan Stins- muehlen-Amend. For all of the thought provoking imagery and painting skill exemplified by this group, the medium of painting on glass has not yet set the world on fire. I 'm surprised that glass painting has not caught on," says Lieberman.

"There are a handful of practitioners who are good at it and take it as seriously as easel painting. But it hasn 't caught on with the general public. In part that 's because it is technically difficult and daunting.And glass collectors have a hard time relating to it. People expect certain things from glass fragility, transparency and shininess. We 're both waiting for Dale Chihuly to take it up."





For more information on WD40+go to http://www.web.media.mit.edu/~lieber/Walt/ or type
Walter Lieberman " into any search engine.