"Our Lady of the Headlines"
by Matthew Kangas
GLASS Magazine, #76, Fall 1999.
Return to
One of the paradoxes of glass art is the question of how such a traditional material can ever carry contemporary subject matter. Often, the apparentness of technique overwhelms any content and sets up a mawkish battle between the two. Seattle artist Walter Lieberman has worked steadily for the past twenty years to fuse process and meaning without the former overshadowing the latter. His most successful examples of coping with this potential paradox have been the paintings in glass of female figures.
Politics, feminism, ecology, the Third World, war, religion and violence are alluded to in the female figure paintings on glass by Lieberman. With glass coming of age as a contemporary art medium flexible enough to confront and cope with any kind of subject matter or content, it is important to play critical catch-up with artists like Lieberman who were way ahead of the curve and who managed to create objects of remarkable beauty at the same time.
Born in New York City in 1954, the artist grew up in Yonkers with parents and an older brother who were politically active. After attending Massachusetts College of Art and graduating in 1978 like many other adventurous and talented young glass artists at the time, he headed for Seattle where he has lived ever since in the quiet Wallingford neighborhood, a latter day haven for glass artists.
Right from the beginning, however, Lieberman was an important part of the downtown Scattle artistic milieu too. The Belltown district north of the Pike Place Market was for a bright and shining period (1975-85) the most interesting and experimental glass artists' quarter in the nation. With colleagues and friends like Buster Simpson, Charles Parriott, Michael Burns, Dick Weiss and a young art dealer named Bill Traver, Lieberman and his friends pushed glass to its limits and beyond.
Stark, austere, and seemingly colorless, Some Things Can Never Be Broken (1985) is a tribute to South African anti-apartheid activist Winnie Mandela. Regardless of later legal problems and criminal accusations, Lieberman brilliantly captures her role as involved observer in the struggle for racial equality and justice. Besides making the black and white colors symbolically resonant of races as well as of newspaper pages, Lieberman also creates a pun on the nature of glass the three shards though which the former Mrs. Mandela's face is visible.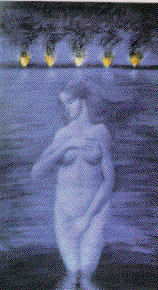 Venus of Victory, 1991. Enamel fired on glass 28 x 20. Courtesy of William Traver Gallery Seattle. Photo: Roger Schreiber.
Far more engage, Venus of Victory and Madonna with Oil Soaked Bird (both 1991) are among the most effective glass paintings fusing form and content. Inverting Boticelli's Birth of Venus (c. 1480), Lieberman retains the model's pose and watery background in Venus of Victory but turns the sea into a greasy oil spill. With five ignited oil wells above, the viewer remembers that the "victory" over Saddam Hussein in Operation Desert Storm involved the ecological disaster of Kuwaiti oil wells being set afire. Lieberman is juxtaposing a celebratory image of beauty against the harsh realities of late 20th century warfare. Somali Woman (1993) drenches the figure in red-orange sunlight oddly costumed with headwrap but otherwise nude. Lieberman was inspired by the famine in Somalia. The work was created before the U.S. Marine Corps invasion of the East African nation. It was the last for the time being of the 45-year-old artist's global-political commentaries.
Since his first and only trip to Mexico that same year, he has remained absorbed with various aspects of Third World conditions in the Western Hemisphere. The elevation of the female figure to divine status may have emerged from Roman Catholic theology but Lieberman was surprised to learn that the hagiography of the Virgin of Guadalupe ended up always being represented by a Caucasian woman instead of the dark-skinned woman related in the vision of the original peasant legend. Realizing this was a result of colonial machinations, he chose to re-honor the divinity and beauty of indigenous Mexican women. Three crucial works form a kind of altarpiece dedicated to this theme.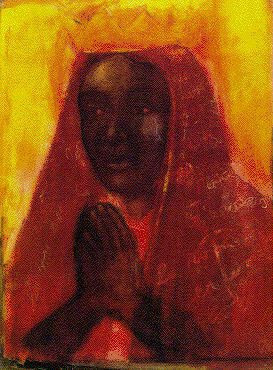 La Madonna Negra, 1995. Enamel fired on glass 30 x 24. Francine and Benson Piloff collection. Photo: Roger Schreiber.
Nuestra Senora de Guadalupe, Nuestra Senora de Cielo (both 1994) and La Madonna Negra (1995) offer alternative versions of the Guadalupe legend. In the first two, Lieberman uses flattened blown glass vases, containers for water (as if made of clay) that might he used in a rural home. Thus matching form and content again, the two Nuestra Senoras are both crowned and enhaloed with triangular gold rays. The sacralizing gold surrounding such humble dark-skinned figures is ennobling and decorative, the same reasons gold was used in early Christian and Orthodox icons. La Madonna Negra alludes to Afro-Caribbean peoples in Mexico and throughout the region. Wearing a red rebozo, the Madonna is clasping her hands in a devotional, supplicatory pose. Our Lady of the Headlines has attained a dignified yet still socially specific balance.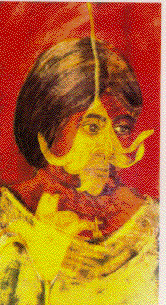 Mexico Rojo, 1998. Enamel fired on glass, 26 x 16. Charles Graziani collection. Photo: Roger Schreiber
Two final works, Botanica (1997) and Mexico Rojo (1998), extend the artist's insights beyond the social and political into the sexual and generative. Comparing both figures to exotic flowers in a visual overlay Lieberman has abandoned the centered figure-ground composition in the earlier works in favor of greater spatial and painterly complexity. Vigorously brushed, these works restore the contemplative glance, indeed, immerse both women in a red or orange bath of erotic reverie. All the flowers are transparent, bleeding through to the figures' faces and bodies and ultimately symbolizing genitalia. Lieberman has returned to the generalized featuers of Third-World women, but is operating on a deeper level now, making oblique references to growth, flowering and fecundity.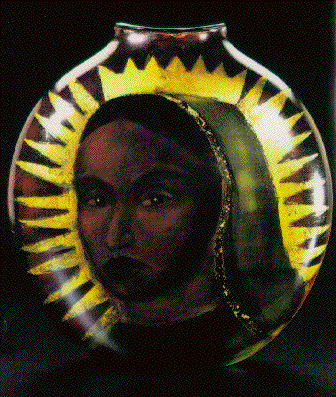 Nuestra Senora de Guadelupe, 1994, enamel fired on blown glass 14x12x3". Luino and Margaret Dell'Osso collection. Photo: Roger Schreiber.
Our Lady of the Headlines has progressed from current events poster girl through Our Lady of Guadelupe, to simply Lady. Botanica and Mexico Rojo point toward a further exploration of femaleness and femininity, to images and meanings associated with aspects of the female figure. The results are certain to be compelling and thought-provoking.
Matthew Kangas is a frequent contributor to GLASS. He also writes for The Seattle Times, Art in America, and Sculpture.